Uplifting one another and striving to excel in our specializations.
Certification as an ARCH Designated Professional or Program.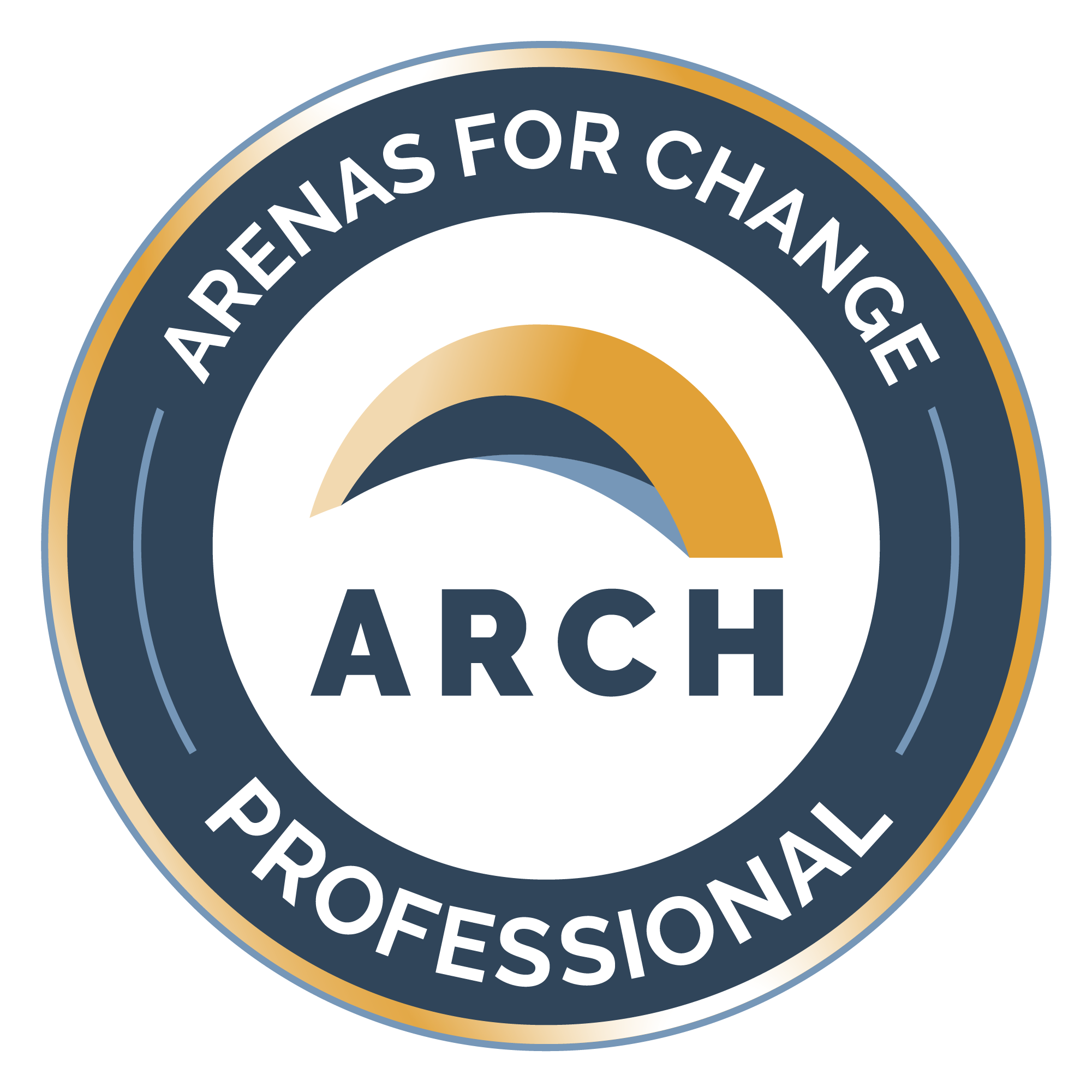 The ARCH Professional Designation
Practicing professionals and programs can earn a certification acknowledging your training, experience and commitment to values and professional contribution through the ARCH Professional or ARCH Program designations.
With this designation, you earn a seat in a specialized community of practice, where we gather as thought leaders to learn, teach, inspire, expand ideas and possibilities, and elevate the work we all do. 
As ARCH Professionals, we are committed to creative, continuous learning personally and professionally through discussion and feedback in a values-based community of worldwide thought leaders and colleagues.
The designation, which can be obtained as an individual or for your organization, indicates training, experience, and practice in a professional area.
ARCH Professional Areas of Expertise
The designation enables you to join the ARCH communities of practice where we learn, contribute, and practice with one another as leaders in our professional scopes of services. 
SEEN through Mental Health
SEEN through Organizational Development
ARCH Professional Communities of Practice
Participation in the ARCH Professional designated community of practice involves a commitment to both learning and contributing to the learning during the year – serving, supporting and uplifting one another in our shared creative, continuous learning. 
The ARCH Professional designation is renewed annually.
During the designation year, your commitment involves at least one hour in each of the 5 areas below that would be done during the group's community of practice calls and online sharing:
Learning 
Contributing 
Case mentoring
Facilitate virtual SEEN session 
Participate as a client in virtual SEEN session 
Engaging in the ARCH Professional community of practice, we inspire one another as worldwide leaders in innovating, contributing, and learning; vulnerably looking at ourselves and stretching each other to grow professionally and personally.
How to obtain the ARCH Professional Designation:
Join as an annual or organization ARCH member
Complete the online ARCH foundation training (included with your ARCH membership) plus in-person or online interactive experiences
Submit the ARCH Professional Designation Application as an individual or organization
Engage with the community of practice
Interested in learning more about the ARCH Professional designation?
Stay in touch and download a brochure about the ARCH Professional designation.
We look forward to learning with one another in the ARCH Professional communities of practice!
"The ARCH training retreat was like nothing I have ever experienced. This fresh and fascinating style born during the COVID pandemic will be an incredible approach for helping people find strength and healing."
Ellen A. Stroud
Licensed Professional Counselor - Mental Health Service Provider
"The ARCH training retreat was like nothing I have ever experienced. This fresh and fascinating style born during the COVID pandemic will be an incredible approach for helping people find strength and healing."